In 2018, SolvAir designed, built and installed a fully-bespoke dual-use Air Knife drying system for a French culinary herb producer. This system meant that the herb producer could now process different objects on the same production line, saving them considerable time, space and money.
SolvAir's client was a French culinary herb producer and a well-established, leading international brand. Their business is diverse, and covers frozen herbs, dehydrated herbs, herb pastes, aromatic herbs and fresh dry herbs.
Unique Product Requirements
Our client had a unique requirement - they wanted to be able to process two PET bottles, one 0.24L and the other 1.0L, and in addition to this a 10L bag, on the same system.
The differences in the product geometries were vast, with bottle heights ranging from 146 upto 290mm and a bulk bag with dimensions 400mm x 560mm x 60mm high. Typically, a conveyor belt for bottles would be different in design to one used for a bulk bag, and the choice of belt design would also usually be different also.
This would usually require an additional production line with two distinct Air Knife systems, resulting in a significant financial commitment for the client.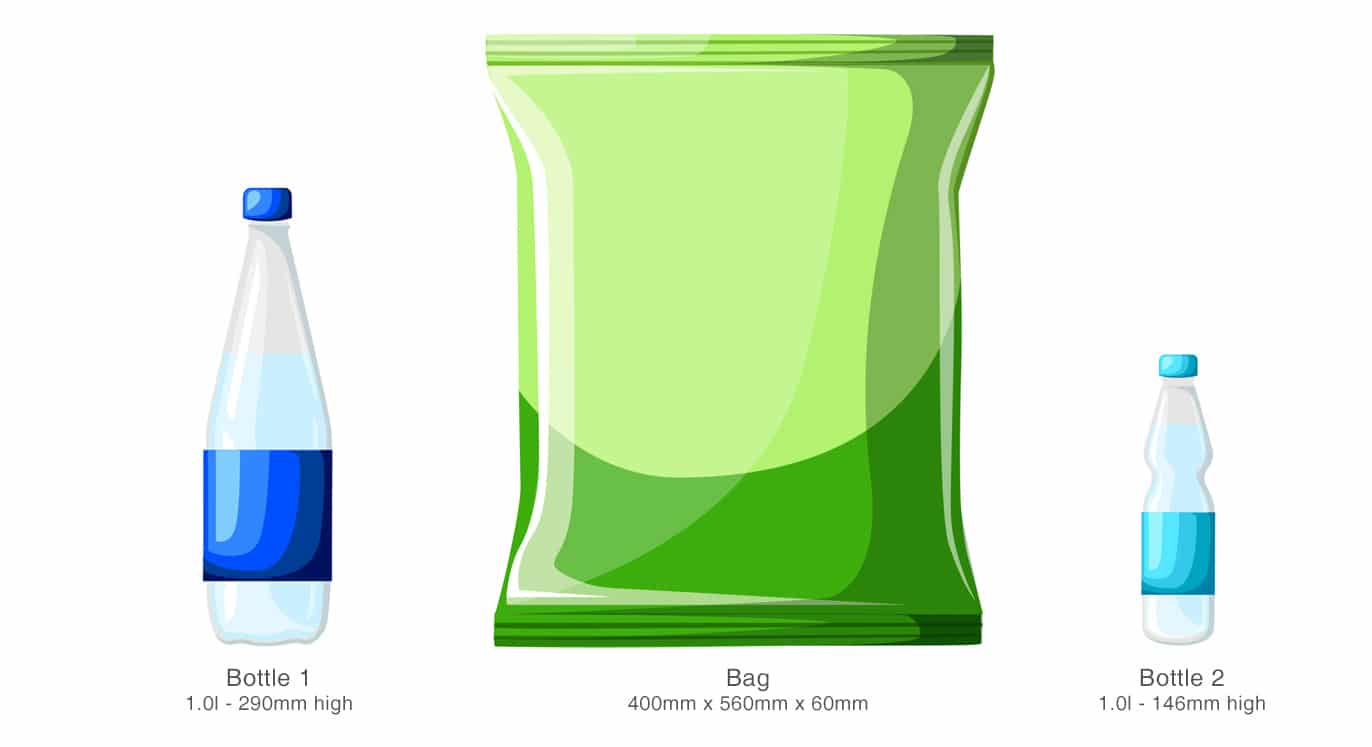 In response to our client's requirements, a uniquely designed solution was required that would allow the switching between one product and another to be a relatively simple process. We put forward the idea of a dual system, with one air device arrangement to suit the bottles, and one air device to suit the bulk bags. Both of these would be connected to a single system blower, but with an easy switchover between the two product types.
System Centrifugal Blower - Paxton AT700
Our proposed system included a Paxton AT700 5.5kW High Speed Centrifugal blower located within an acoustically lined enclosure above the process line.
The enclosure included inlet filter panels to ensure a clean working environment for the blower. Large lift off doors provided good access to the blower for maintenance, and these blowers operate with relatively low preventative maintenance requirements.
For example, in two shift operation patterns, typically one single service is required per year to change the blower inlet air filter and the drive belt. The reliability of this blower is demonstrated by Paxton's industry-leading 3-Year warranty program.
Stainless Steel Air Knives
High impact linear Air Knives were used for this system, all produced from 304 grade stainless steel. Air knives deliver a constant stream of air, directed onto the product and shearing the moisture from the product surface.
For the bottle drying we used two 500mm long side knives. For the bulk bags we also used similarly sized 494mm Air Knives, one above the bag and one below. The lower air knife was installed into the conveyor and directed its airstream through the conveyor belt.
A wire mesh belt was selected to support the moving products, whilst having a large free area to provide the least resistance to the drying airstream. This type of wire mesh belt would also drain freely and retain only a minimal amount of water. Water removed by the system would be collected in the lower drip tray and discharged via drain pipework.
Dual Air Knife System Operation
Air knives above the conveyor belt were mounted onto an adjustment assembly. This had a pivot point shaft and a hand wheel to alter the position from bottle to bulk bag drying. Whilst in the bottle position in had a secondary pivot point to vary between the small and large bottle sizes. A two way air divider was incorporated into the system to allow changing between bottles and bulk bag.
Control panel - SEW variable
The electrical controls for the system were mounted directly onto the enclosure. The client had specified the use of SEW variable speed drives. These provide accurate control over the 0.25kW conveyor speed, and also the 5.5kW blower performance. Both of these were linked to a dial potentiometer, located on the user panel interface, for ease of use.
"This system presented a unique design challenge - we needed to come up with something new, something that could successfully manage a mixture of different bottles and bags without lengthy downtime or modifications. Our 3-in-1 successfully achieved this, culminating in an effective drying system with an operator-friendly easy changeover feature."
Chris Davies | SolvAir CEO
Our team of specialists work with you to advise, design and install your system, customising it to your exact requirements. We ensure that you see results from day one – including in your productivity and energy use.